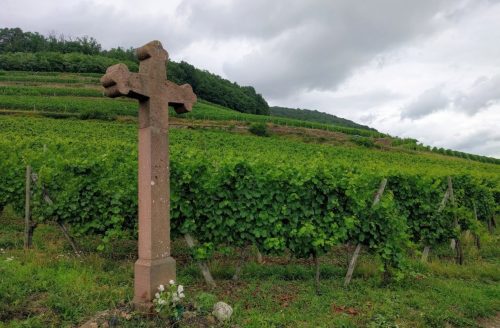 "We are very cheap for a Grand Cru!"
It could be said that Domaines Schlumberger's Thomas Schlumberger doesn't fully understand the negative connotations of the word "cheap" in the English language. I write that because, as he told me the above quote during a media visit to the Guebwiller property that has been in his family for about 200 years, he phrased it in a tone that was at once proud and matter-of-fact.
The bottom line is that no one really offers a smoother glide path into the vinous world of Alsatian Grand Cru that Schlumberger. First, they have the typical history portion covered: Domaines Schlumberger is still a family business (7th generation export manager Thomas lives across the street from the winery, "where I grew up," having come back to the family business after a stint in the perfume industry at the behest of his uncle), and still operates out of the area in which the family settled from Germany (choosing the site because of its access to water, needed for their textiles business). From a desire to make wine for their own consumption, they gradually expanded and replanted their plantings in the area to about 70 hectares (this took the purchase of 2500 plots in a single decade, along with ten years of replanting, much of it on terraced slopes so steep that a special breed of horses that don't experience vertigo were needed to work the vineyards).
From a Grand Cru perspective, Domaines Schlumberger has the raw material to offer inexpensive Grand Cru action: about ten percent of all Alsace Grand Cru wines are sold by them, and they are the largest independent winery in the area, exporting 2/3 of their production to 50 countries (so chances are good that you can find some of their wares).
Maybe most importantly for an ultra-competitive, information-saturated wine market, they have what might be the simplest Alsatian SKU category formula: you can try "classic" versions of Alsace's principal grape varieties in their Les Princes Abbés line, or the Grand Cru single-site versions, and that's basically it…