Squeaking this one in juuuust under the wire, here's the August 2016 edition of the wine product roundup, in which I highlight non-drinkable wine products from the ever-growing sample pool.
Annoyingly, I'm not going to actually be reviewing this month's products, only mentioning and recommending them. This is due to the fact that said products – both of them upcoming book releases – were authored by people that I consider to be wine writing friends and colleagues; so the potential conflicts of interest are of war-torn Bosnian proportions.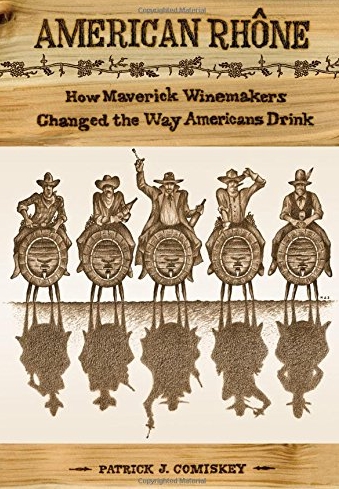 The first is American Rhone: How Maverick Winemakers Changed the Way Americans Drink ($35, University of California Press), by Patrick Comiskey. The only thing that I don't like about Patrick's upcoming book is the lack of the word "that" in the title. I've known Patrick for several years now, though our paths cross far too seldom. In this new book, he takes on the struggles of the people behind the movement to produce and promote wines made from Rhone varieties grown in the U.S.
Comiskey has a skeptical reporter's mind, a poet's way with turns of phrase, an editor's sense of conservation of words, and a keen (and deep) understanding of – and respect for – wine as a subject matter, all of which come to bear in American Rhone. I'll just leave it at that…