If you're me, when you get an invite to attend a guided tasting of Ornellaia's 2012 "L'Incanto" release (and some past vintages) with Giovanni Geddes da Filicaja and winemaker Axel Heinz at 620 Loft and Garden in NYC in May, you accept.
Because, well, that's how you spend a Monday when you're me, alright? And it's been a couple of years since I'd had an opportunity to get up close and personal with Ornellaia's wares.
Also, if you're me, when they name a wine "L'Incanto" ("the Enchantment"), you expect them to put pixelated references to Minecraft on the label. I am sad to tell you that didn't happen, my friends. I know, right? C'mon, even first graders know the Minecraft references now (not that those consumers should be Ornellaia's market…).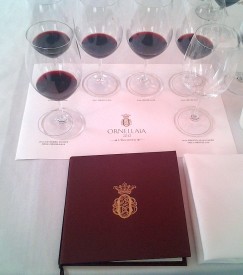 I am not sad to report, however, on the wines that we tasted during that session, most of which were excellent (as you will read in a few moments). I am sad to think that several of you reading this will flame me for liking these wines, though I am quite sure that will happen. Having said that, I incite you to consider the following insight:
Some of Ornellaia's releases are every bit as high quality (and age-worthy) as high-end Bordeaux reds, yet (while certainly expensive) rarely reach the lofty, scale-K2-with-oxygen-tanks price points of those First and Second Growths.
Just sayin'…