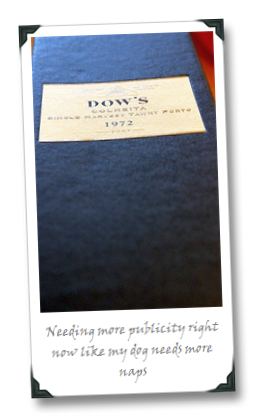 Quick, get ready to freak out; I am about to talk about a wine that was not a sample, but for which I paid using my very own hard-earned cash! The atom might destabilize!!
It's true. About the wine being purchased, I mean, not about the atom (I think).
The short version of the story is that at 1WD HQ, I tend to do a pre-Thanksgiving Thanksgiving meal, in which we indulge in home cooking, and focus on healthier versions of the Turkey Day classics, paired up with lots of wines from the sample pool.
Only this time, I found myself in desperate need of more than the usual pick-me-up, and decided to break into a bottle that I'd picked up on my lonesome, and have been not-so-patiently waiting for an excuse to crack open and enjoy.
As you will see from the inset pic and details below, much of what we drank – including that self-procured vino – are slightly different takes on wine world staples…