It's funny (as in "refreshingly interesting," and not as in "ha-ha, I almost peed my pants!" or "ewww, well… that's weird) how success in the wine business keeps getting redefined and reinvented.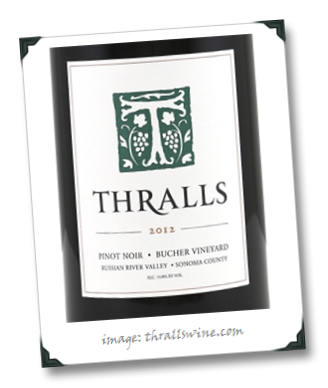 To wit: by now, we shouldn't be surprised that we're seeing wine lovers migrate from the online wine world into viable writing and winemaking careers, but for whatever reason the Hardy-Wallace-type stories still seem oddly out of place in the wine biz. Oh, wait, it's for "whatever" reason; the reason is that the wine world is still woefully behind on understanding that the online world is populated by actual human beings with actual passions, talents, and funding. Okay, whatever.
We can add another online-wine-wonk-to-promising-offline-wine-producer story to that growing lineup: that of Ed Thralls, who recently sent me samples of his personal project, Thralls Family Cellars.
A refugee from the east-coast (Atlanta) financial tech industry, Thralls was blogging and tweeting at the handle @WineTonite for some time, all the while building up real-world wine chops through an internship at Holdredge Wines, a stint in the Viticulture & Enology program at UC-Davis, and completion of the Certified Specialist of Wine qualification.
The result of Ed's foray into personal wine branding is tiny quantities of Pinot Noir juice crafted from grapes purchased from interesting spots in Northern California, with an eye towards clonal selection, light use of new French oak, dollops of whole cluster and unfiltered processing, and generally trying to get the results under 14% abv. It's Pinot that is promising – and elegant – enough that Thralls' efforts probably ought to be considered for a seat at the "cool kids" table of In Pursuit Of Balance (and similar modern temples to the anti-largeness Pinot crowd; hey, I'm not complaining, I dig both styles)…