It's time for wine writers and wine geeks to heave a collective, heavy sigh.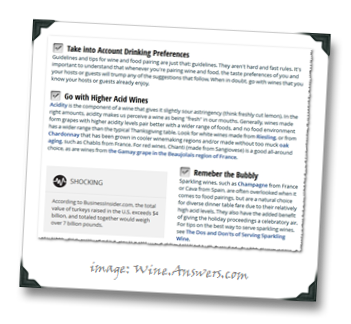 Just as every story about Australia is spiritually obligated to include a photo of the Sydney Opera House (seriously, what is with that?), the close of November brings the wine geek heartburn of Ye Olde Dreaded Thanksgiving Day Wine Pairing Article.
Long-time 1WD readers already know how I feel about the subject of Ye Olde Dreaded Thanksgiving Day Wine Pairing Article. But there is NO way that any wine writing gig is letting a wine writer out of having to pen that one, because people apparently want the help. Ironically, it's the very situation that causes wine drinkers angina – the fact that the Turkey Day dinner table, with its clashes of foodstuffs of various flavors, textures, and sweetness levels, is a veritable mine field for any one wine pairing choice – that makes the task of recommending wines for Thanksgiving dinner more or less impossible.
Seriously. It's like Strangelets or Antiparticles. Theoretically they're there, and theoretically we can test for their existence, but not without a crap ton of work and learning from failed attempts. Actually, in the case of Strangelets, testing for their existence in a large scale particle collider could theoretically create a chain reaction that turns all matter on Earth into Strangelets, which would suck major donkey bong (but only for a few millionths of a second, after which you'd just be a bunch of Strangelet particles) if it happened on Thanksgiving and you were really looking forward to your Aunt's pumpkin pie. Best if we just not think about that one from here on out, okay?
Anyway… there are general guidelines that can reduce the impossibility quotient of the Turkey Day wine decision, and this year I've used the Answers.com wine gig as the outlet for my latest take on those. They're in Dos/Don'ts format, and include at least one reversal of a a previous Thanksgiving dinner wine recommendation that I've given in the past, which if nothing else can provide you some fodder for making fun of me and calling me a hack, which is another annual tradition for some people (if you're one of them: you're welcome!)…