I've been churning out content on 1WineDude.com for about five years, and over the last year or two articles have been posted here just about five days a week.
Total cost to you, aside from your time and smarties, is somewhere around $0.00.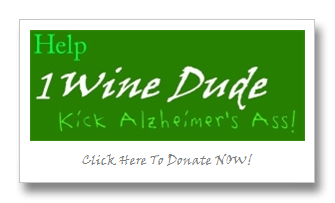 But today… Today, I'm asking you to pay up. But not to me.
Today I'm asking you to pay it forward and donate to the Alzheimer's Association in the name of my grandmother Lucille, a breast cancer survivor who succumbed to Alzheimer's when in her 90s, and whose birthday I'd be celebrating this week if she were still alive.
$5 is the minimum donation. That's it – five bucks to help make the world a better place in the future, five bucks to pay it forward so that someone else's family will have grandparents who remember their faces and names until the day that they die, and not have their memories robbed from them by Alzheimer's. And as you're helping to make a difference, you might win something, too…