Last week, Silicon Valley Bank and Vintank teamed up to present a rather well-researched and thorough look at what the wine industry has in store for itself in the near future.
Predictions are, of course, only for the exceedingly brave (or exceedingly foolish – or both), since they're ripe for the 20/20 vision sniper cross hairs of retrospective perspective later. But I tend to admire the cojones it takes to put your thoughts out on a public limb, opening it up for those who would use them as a perch for even greater ideas, not to mention as fodder at which any thick-skulled woodpeckers can take pot shots. An example: the bold predictions that Vintank made about the wine biz for 2011, many of which didn't materialize in 2011 but are starting to show signs of instantiating themselves in early 2012 – in fact, the SVB report bolsters several of those bold Vintank 2011 predictions (the growth of direct wine sales, for example, in what they term "the 5th Column), for those who have more pachyderm-like memories (and are keeping score). Vintank: 1; Woodpeckers: 0?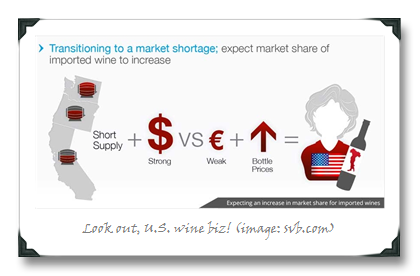 You can download the report, its summary slides, and an even higher-level infographic summary at SVBs website.
While the results (understandably, given the source) have a serious CA-focus, there are tidbits therein that the worldwide wine industry can take away from it.
For example, U.S. wine producers may be set for shorter supply, increased prices, and a big challenge from EU country wine imports.
Not exactly good news for the U.S. wine biz…