This week finds me in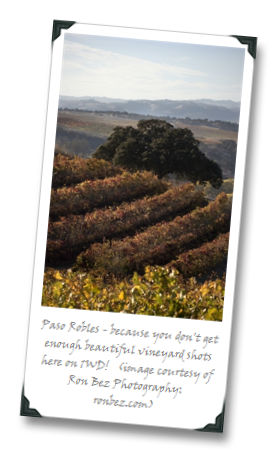 Paso Robles, courtesy of the Paso Robles Wine Country Alliance, presumably because you folks don't get enough images of beautiful vineyard locations coupled with smarmy captions here on 1WineDude.com, so we need a trip to get you some more, you greedy little things!
I'll be taking part in what they call a "Lifestyle Media Tour," the aim of which is to get an "understanding of Paso Robles' approach to sustainability, experiencing a true sense of place, seeing what the consumer may experience on a visit and meeting the personalities of the region."  It's unclear if those personalities include Bugs Bunny, but for some reason I woke up this morning wishing they did (maybe it was the Absinthe…). Oh, and I'll be visiting (hopefully) more than a few producers of Paso wine, since the region is CA's third-largest and by many counts its fastest-growing wine area.
Anyway, I'll be "roughing it" once again in the hopes that the trip will net some interesting stuff to share with all of you (it would suck to take those 6AM flights out to the Left Coast for nuthin'!).
But I'm not here to talk about Paso today, folks.  I'm actually here to talk about China (Abrupt Transitions: 1, Joe: 0)…