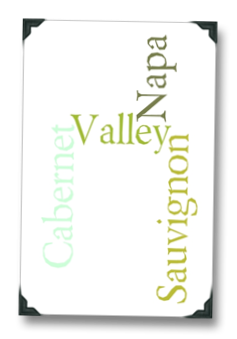 Today I'll be starting my week-long Napa excursion (the itinerary of which I'd hoped to have posted today, but since all those West Coast hippies are so damn laid back, as of the time of this writing my schedule still isn't totally finalized… if I'd been dealing with uptight, anally-retentive East Coast types I would have had this all nailed down within 15 minute intervals weeks ago).
This got me thinking about Napa Cabernet, of which I plan to have tasted so much by the time I leave Napa that I will probably need emergency dental work to deal with the teeth stains as soon as I land back in Philly.
And since I'm heading out there for a writers symposium, it got me thinking about the origin of "Napa Cabernet" – not in terms of the wine, but in terms of the words.  I'm a sucker for words and I own more than my fair share of dictionaries and etymological resources.  I'm geeky that way.
You'd think that this would be pretty easy, right?  A bit of Google searching, or a trip to the handy-dandy unabridged dictionary, and we'd be all set, right?  Surely there isn't much to the origin of such words, the kind that are so nearly ubiquitous that they instantly call up various mental and sensory images for wine lovers worldwide, right?
Not so fast, Buck-O.  As it turns out, the etymology of both "Napa" and "Cabernet" is far from being etched indelibly in stone…