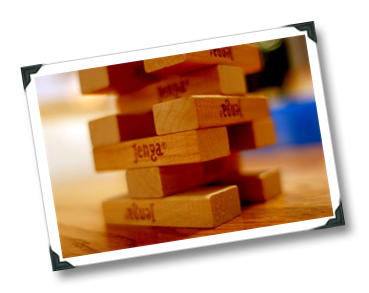 Today we'll be talking about listening to entire rock albums vs. individual MP3 song downloads, wine preservation systems, on-line store boycotts, Jenga, and Mozart.
Yeah, I know – how do I get myself into these messes, right?
Let's start with the albums vs. individual songs thing.  At heart, I'm an album guy.  What I mean is, I find that on the whole, I prefer listening to an entire album of music vs. individual songs or best-of collections.  Some of the greatest rock albums of all time – Who's Next, Moving Pictures, The Queen Is Dead, Woyaya, Close To the Edge, Sgt. Pepper's Lonely Hearts Club Band, Let It Bleed – had an enormous amount of time and effort placed in the track sequence alone.  Sure, the individual songs are quite enjoyable, but over the course of listening to an entire hour of a band's work, the pieces can sometimes become more powerful when taken taken together. In rare cases, the construction of an album is so damn good that removing or rearranging even one track would be like removing an instrument from a Mozart work – the remainder starts to fall apart, like a Jenga puzzle with a foundation piece suddenly torn away.  Sometimes, deconstruction isn't worth it.
The funny thing is, when it comes to wine I'm in exactly the opposite camp.  I love going through a great bottle of wine with friends, really "listening" to what the wine has to say as it unfolds and changes over the course of an evening, but all things being equal, I'd rather sample and enjoy several wines in the same time frame.  And since they contain alcohol there is a simple biological limit to how many bottles can be opened and enjoyed in full by a small group of people in one evening.  Not that I've tested that limit, of course. At least, not yet this week.
Which is why I fell in love with the wine tasting bar at the enormous Fairlakes, VA Whole Foods 'mothership' store while touring the Loudoun County wine country recently.
So, to recap: that's Rock albums vs. MP3 singles, Mozart, Jenga, Virginia, and Whole Foods.  Now we can talk about some wine!…