If you enjoy what are regarded as some of the world's most prestigious wines, and happen to have in excess of $600,000 lying around, then you might want to make your way to Sotheby's in New York on March 10.
That's when they plan on selling the wines from the cellar of famed wine collector and way-cool-eye-patch-wearer Lloyd Flatt.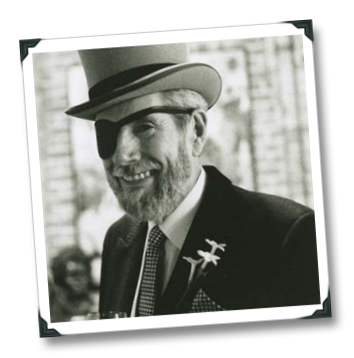 Long-time 1WineDude.com readers will recall Flatt and his extravagant cellar when they were covered here in a guest post by long-time friend-of-the-Dude Jason Whiteside (who had the honor of pouring some of Flatt's collected wines at a party held in his memory).  Saying that Flatt's wine collection was amazing and expensive would be a bit like saying that a nuclear war might "tickle a bit" – in other words, a huge understatement.  As Lloyd's widow, Lauré Flatt, put it:
"There was the rebuilding of Europe, the rebuilding of Atlanta and then there was the rebuilding of Lloyd Flatt's wine cellar."
Flatt's cellar contents reads like a Who's Who of France's most celebrated wine labels (see the full list for auction after the jump).  While he clearly enjoyed the most celebrated of French wines, he seems to have harbored a pretty down-to-earth approach when it came to wine tasting.   Recalls Lauré:
" 'Must be present to win' – of all of Lloyds quotes, this is my personal favorite. This was the order of the day whenever opening an important bottle to share with family and friends. Many times it was just he and I at our kitchen table or in the garden. Top hats, morning coats, a jazz band through the French Quarter or pajamas in the garden, Lloyd said the dress did not change the taste of the elixir. He had a hunger for fine foods; however he was not one to follow the food to wine match; 'if the wine is good enough the food will follow.'  He often enjoyed Dom Pérignon and Dominos pizza, or a Lafite with a cheeseburger."
I can get behind the cheeseburger, but Dominos?  Really?!??
Anyway, the list of Flatt's wines on auction is below.  Enjoy, and try not to salivate too much on the keyboard…
Bordeaux:
1 x 4.5l Jero, 1959 Lafite Rothschild, est. $20,000-30,000
1 x 4.5 Jero 1961 Lafite Rothschild est. $12,000-20,000
1 6L Margaux 1983 est. $4,000-6,000
1 x 15L 1989 Lynch Bages est. $4,000-6,000
White Bordeaux:
12 bottles 1989 Haut Brion Blanc est. $10,000-15,000
1 6L 1985 Haut Brion Blanc est. $3,000-5,000
12 bottles 1982 Haut Brion Blanc est. $3,000-5,000
Burgundy:
DRC:
2 x 6L 1983 Montrachet est. $8,000-11,000 each
9x 3L 1983 Jero La Tâche est. $3.000-4,000 each
2 x 750ml 1947 La Tâche est. $8,000-12,000
1 x 1.5L 1962 Grands Echézeaux est. $4,500-6
Bouchard Père et Fils:
1 bt 1865 Chambertin est. $1/1,500
1 bt 1865 La Romanée est. $4/5,500
1 bt 1861 Romanée St. Vivant est. $4/5,500
1 bt 1864 Montrachet est. $4/5,500
1 bt 1869 Montrachet est. $2,750/4,000
Champagne:
2 x 6L 1990 Louis Roederer Cristal Millennium Mathusalem est. $10,000-15,000 each
2 x 1500ml 1971 Salon le Mesnil est. $4,000-6,000
1 x 1500ml 1969 Krug Collection est. $2,250-3,250
1 x 1500ml 1962 Dom Pérignon est. $2,000-3,000
3 x 750ml 1959 Salon le Mesnil est. $4,500-6,000
1 bottle 1949 Salon le Mesnil est. $1,000-1,500
Cheers!