"The soil is like a puzzle."
When Fattoria Zerbina matriarch Cristina Geminiani talks about her Faenza area vineyards in Italy's Romagna, she gives the distinct impressions that a) she knows what she is doing, and, b) isn't prepared to take any sh*t about it.
At least, that's the sense that I got when I got my feet into Zerbina's 32 hectares of red clay and limestone soils during a recent press jaunt. Geminiani took over the reins of the family wine business (established in the `60s by her grandfather) in 1987, having studied at both the University of Milan and the University of Bordeaux.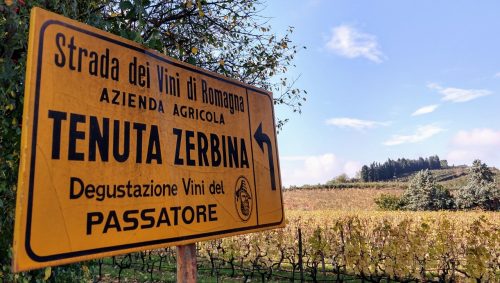 Geminiani's "puzzle" necessitates a pasticcio approach to crafting wine in this case, primarily from Romagna's Sangiovese and Albana grapes) – combinations of alberello, gobelet, and trellised vine training, and often different pickings (sometimes within the same plots). Zerbina's proximity to nearby rivers means that their Albana is prone to noble rot, which Geminiani understandably has totally run with for their passito wine, given her experience in Bordeaux.
Anyway… enough of my yappin', let's boogie…
Read the rest of this stuff »