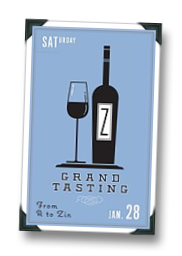 Once again, I'm partnering with the venerable Zinfandel Advocates and Producers (ZAP) to get tickets to the next ZAP festival into your hands (for free)!
In what will be one of the biggest giveaways ever conducted on 1WD, TWO lucky randomly-chosen readers will each receive four event tickets for some of the ZAP 2012 shindigs in San Francisco (by way of two tickets to two separate ZAP events), meaning that you and new or existing BFF can experience some of ZAP together for twice the vinous fun.
Here's the deal – each of the two lucky winners in this giveaway will receive the following booty:
You must be 21 or older (and so will your BFF!), and the giveaway covers tickets only (no travel, lodging, massages…). As I'm not (yet?) independently wealthy, rather than transport winners personally from any destination in the world to San Fran. via my sparkling clean white yacht staffed by Swedish swimsuit models, the winning peeps are totally on their own for any travel/expenses. Also, the giveaway is open to U.S. readers only (sorry again, loyal Estonian readers!). As always, if you win, you're responsible for any taxes, personal expenses, whatnots, etc.
In last year's giveaway, we generated a ton of great Zinfandel recommendations in the comments. For this year's giveaway, I thought that we'd do something a little… different… YOU are also going to determine what Zins I review next on 1WineDude.com!…