The ESC Dijon Bourgogne (Burgundy School of Business) has recently wrapped up its three year study of wine blogging worldwide, the results of which have been released in a free whitepaper titled World Wide Wines: Digital Writing on Wine.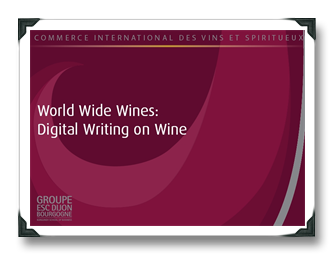 This is important not just because it sounds like The Scorpions' kick-ass live album World Wide Live, but because the ESC Dijon Bourgogne study is the longest and most comprehensive view of the wine blogosphere ever attempted. Is it perfect? No (Exhibit A: calling Paul Mabray and I – now in or forties – the "younger generation of wine bloggers;" maybe compared to the average age of the wine guys writing for traditional wine media outlets…). But given its scope, its incorporation of other important wine blogging studies, and its length, this is as close as we've got to a litmus test on the global state of wine blogging.
For me, the most telling and pertinent results of the study come in pages 23-26 (more on that below), in which the study adds further proof to the idea (or what we should now probably consider the fact) that there is no real difference between wine bloggers and wine consumers.
Think that wine bloggers are "wasting" time by talking to one another, and don't reach "real" consumers who spend their money on wine? Sorry, you're harboring an antiquated view that doesn't stand up to common sense, the laws of statistical averages, or the data offered in ESC Dijon Bourgogne's three year study. If that's still your view, then maybe you should just go renew your membership to the Flat Earth Society instead of seeing the study details I'm about to present…