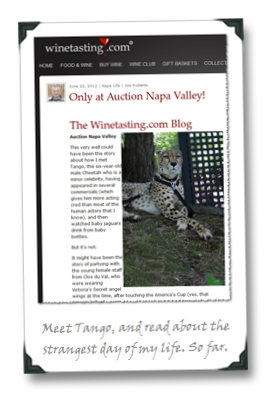 The most awesome among you who read these virtual pages regularly might recall my brief mention of an encounter with Emeril Lagasse (yes, that Emeril) and other surreal experiences involving live animals and The America's Cup from Auction Napa Valley 2012 that, taken together, might have constituted the strangest day of my life.
I had promised that the full story would be revealed as the first entry in a new content-creation gig on which I was working, and I'm happy to tell you that article is now live over at WineTasting.com.
While I've only penned a couple of pieces for WT, I'm really excited about the gig because they're backed by wine lovers who also happen to be the founders of 1-800-Flowers, and who have hired some ridiculously smart and talented people (myself excluded – just a hired gun of probably average intelligence here…!) to help them launch both their on-line property and what promises to be an amazing downtown Napa destination.
I'm including some photos below after the jump that didn't make it into that first WT article, so that you can get a further glimpse into the madness of the day that spawned my travel monologue for them. Enjoy!…