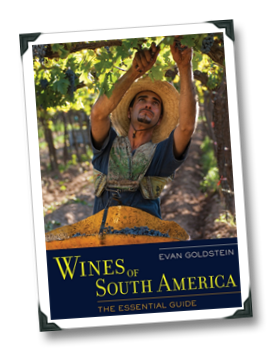 There are moments that mark a sort of rite of passage for personalities in any field. With respect to writing on the topic of wine, there's the first time you're given a wine sample, the first time you're invited to a tasting event or a tour of a wine region, the first time someone quotes your review of a wine, etc.
Like sex (okay, that's a really poor comparison), they say you never forget your first time, and I suspect that in any case several of those first time events were almost as awkward an exchange as that first time.
Anyway…
I was recently involved in another first (for me) when it comes to being a wine personality (for lack of a better term): being asked to write a blurb for someone else's wine book, the soon-to-be-released "Wines of South America: The Essential Guide" by Master Somm. Evan Goldstein.
On the finished product (a page proof copy of which I recently received), my blurb in support of Goldstein's latest shares the back page with another blurb penned by the indefatigable Laura Catena of Catena Zapata; so I'm in very good company as far as covers go…