Depending on who you ask, Wine Trials author Robin Goldstein is either the wine world's Satan, or the wine consumer's Savior.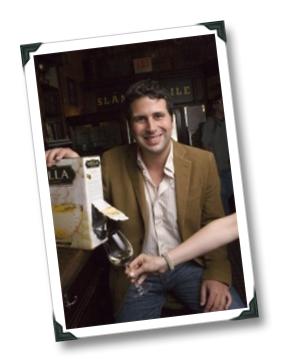 Whether you feel that Goldstein's powers are being used for good or evil, you can't say that he harbors a fear of shaking things up.  Goldstein became a polarizing figure in the wine world in 2008, when he ruffled the feathers of Wine Spectator by creating a fictitious restaurant whose wine list included some of their lowest-scoring Italian wines in the past two decades, and subsequently won their restaurant Award of Excellence.  The aftermath caused one of the most heated debates of the year in the wine world.
Goldstein also coauthored The Wine Trials, the first edition of which is the bestselling wine guide (for inexpensive wines, anyway) in the world.  The premise of the Wine Trials was simple: compare everyday wines to more expensive equivalents in blind tastings, and see which ones the average person preferred.  As it turns out, most wine consumers – to a statistically significant degree – enjoy the less expensive options; more feathers ruffled!
Goldstein has a new website, BlindTaste.com, and the 2010 edition of the Wine Trials has recently been released.  I tore through my review copy of The Wine Trials, and I found the first 50 pages (which describe the approach and science behind the book, and hint at its future implications on the wine industry) to be some of the most profound reading on wine appreciation that I have ever come across.  The Wine Trials doesn't just poke at wine's sacred cows – it skewers them, grills them, and serves them up with an inexpensive Spanish red (Lan Rioja Crianza in this case, which took the Wine of the Year honors in the 2010 Wine Trials).  A similar take on beer, The Beer Trials, is set to be released this Spring.
Robin kindly agreed to answer a few questions for our readers.  I'll warn you that you should be prepared for a quick and opinionated mind – and you might want to pad the walls of your wine world, because that world is about to get turned squarely onto its ear…