My oversized dog, Brunello – so named because he's big (well over 115 lbs) and Italian (a Cane Corso) – is one of the most trainable dogs I've ever owned.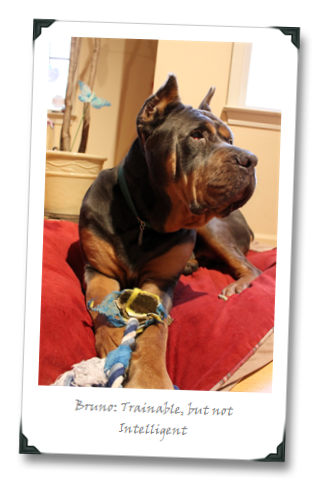 He's also dumber than a bag of hammers.
Bruno is sweet, fairly gentle, and learns quickly; don't get me wrong here, we love the big lug. But as far as being able to exercise independent, intelligent, problem-solving thought, I know furniture that might be able to give him a run for the money.
Contrast that with our previous dog, a fleet-footed (and equally as sweet) weimaraner named Samson. Sam always knew what he wanted, whether it was sneaking from his floor bed into into our cozy (and, presumably, warmer) bed while we were asleep, or "liberating" some of his expensive pet food from one of its metal can prisons on his own (I once came home to an empty pet food can that Sam had opened up like a rose petal, having devoured all of the contents inside without once cutting himself on the remaining bent metal). And he was adept at trying to get it. Want to go outside and join the family while they're working in the yard? NO problem… I'll just use my paws to wiggle the door handle and… hey everybody! here I am!!! Let's run out into the street!!!
Sam, possessing a large volume of independent thought and spirit, always made training a bit of a chore. "Why the f*ck should I do that?" seemed to be his primary reaction to training sessions; "can you just give me the treats already since that seems to be what all this about anyway?" But he could assemble input from his surroundings into the ability to get himself into trouble by going after something that he wanted but knew he wasn't supposed to have. Now, that isn't being trainable, but it sure as hell is being intelligent.
Okay, so now those of you who've asked for more blog posts about my dog are happy. But what's this got to do with vino? More than you'd think, actually; you see, the wine biz would happily like you to act a lot more like Bruno than like Sam. And I'm here to tell you why that makes you the wine biz's figurative "bitch"…