Yep. Really.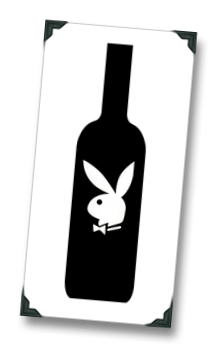 I'm crazy excited to tell you that I will soon be authoring a freelance wine column on Playboy.com.

So now you have some legitimacy behind the "I'm just going there for the articles, honey!" excuse (you're welcome!).
The folks behind Playboy.com reached out to me many moons ago, and the whole thing has been even many more moons in the making, so I'm thrilled to be able to get started – and humbled and honored by the opportunity to work with such an amazing brand. I don't know how long this gig will last, and the column doesn't have an official name yet (please shout out your ideas in the comments – I've got a feeling those will be very entertaining!), but we have some great ideas for content, which naturally will be exploring the more sensual sides of wine.
Now, I've never featured beautiful nude women on 1WineDude.com (though I've come close!), but I suppose you could say that there's a bit of "spiritual alignment" in my writing style and the serious-but-accessible-and-slightly-irreverent take on the subject of wine that Playboy.com was looking for. To me, it's a bit like Forbes.com bringing on Jeff Lefevre's smart, analytical writing style, or how the populist, grounded voice of Vinography's Alder Yarrow fits in so well with JancisRobinson.com. So you can add one more name to the list of home-grown wine bloggers being tapped by long-standing on-line brands.
There are a few things you probably should know about this Playboy.com gig…