For those of you who've missed (what will certainly seem like) the last several thousand posts here on 1WineDude.com, I recently spoke at the 2010 Wines of Portugal International Conference as a panelist on the topic of how the Internet and Social Media are impacting the world of wine and how that will impact the Portuguese wine industry.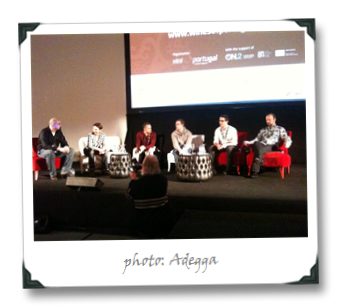 Among my fellow panelists was the talented Neal Martin, who writes for eRobertParker.com covering Bordeaux.  In some ways, Neal proved the counterbalance to the messages being offered by me and the other panelists, in that he has a rather skeptical approach to the power of social media in the wine world. During the course of the panel, Neal raised several points about social media's place in the context of wine criticism that I and the other panelists did not address directly – not because we're without opinion on those points, but because we felt they weren't relevant to the topic of how wine producers (the largest contingent of our panel audience) could leverage the power of social media online to help their business.
In my case, it certainly did NOT mean that I agreed with those points, as will become clear to anyone in the course of reading this article, in which I will address what I took as the primary (or, if not primary, at least relatively important) points raised or hinted at by Neal about social media's place in wine criticism – and try to refute them.
I should note that I enjoy Neal's company, respect his work, and marvel at his writing abilities. But I found many of his views on social media so profoundly off-base that I felt they needed comment.  It's not that Neal sees no value in social media, but I got the impression that his view is looking backward, not forward – and thinking ahead is absolutely key in understanding what social media can do for you, and the place that it is very likely to take in the future in terms of wine criticism.
Let's take a look at the contrarian views that are all too often espoused when applying social media to wine, and go from there.  I've grouped them below roughly in a group of three, and summarized each as a hypothetical quite or argument. It's worth noting that I'm not quoting anyone in particular but am paraphrasing and, while it might be tempting to anoint someone like Neal as a sort of dark arts saint of an anti-social-media satanic church, life is rarely that simple and it's certainly not my intention here.
In this case, Neal's comments during our panel were simply the catalyst for a sort of… manifesto that took shape in my (twisted) mind.  The kind of thing you're compelled to write because you have to (and because you're a bit tired of preaching the same gospel over and over, and would like to have a handy place to keep it so you can refer others to it again… and again… and again…). I will warn you, it's long and probably not appropriately "scannable" for blog reading, but f–k it I'm posting it anyway.
As always, your comments / criticisms / points / love / hate are all welcome!…