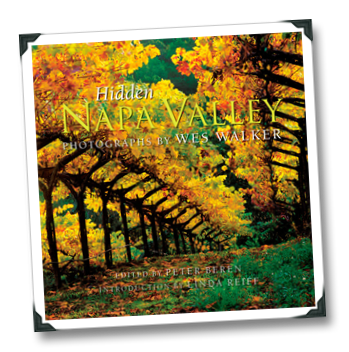 The first thing that you think (if you're me, anyway) about the late Wes Walker's Hidden Napa Valley ($19.95 from Welcome Books, I received an advanced sample copy of the newly updated edition) is how unexpectedly small it is.
At 7 and 1/4 inches square, you almost want to greet it with a cliche; "Oh, I'm sorry, it's just that… well, I expected you to be taller").
The second thing that you might think when seeing Hidden Napa Valley for the first time is that it's just another book of beautiful photographs from the equally beautiful Napa Valley, the kind that tourists pick up from winery gift shops so they can take them home and later lament at how unbeautiful their hometowns are in comparison; another stone to hang around their heavy hearts as they sink into the miasmic depths of the discontent that only those who chase after the capitalist notion of the wine lifestyle can truly appreciate.
Or something like that, anyway.
Writing off Hidden Napa Valley can only ever be a temporary mistake for anyone who really knows the Valley, however; once you flip through its gorgeous pages you will, eventually, come across a photo that speaks to you, as if Walker had somehow, without ever knowing you, captured a private moment – some time when you let your guard down, willingly got sucked into the gorgeousness of it all, and that you thought was only known by you and Napa.
Walker probably knew that just about everybody that spends more than one vacation stop in Napa has had that moment…