Dispatch from The Inebriated Press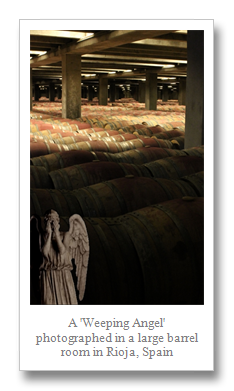 Cellar masters – those who toil in the barrel cellars of wineries everywhere – are being urged to exercise extreme caution when entering their workplaces, as reports of several deaths and disappearances of cellar workers continue to flood municipal law enforcement offices worldwide.
The fine wine region of Rioja – where nearly 60% of all of the deadly cases have been reported to date – seems particularly susceptible, though dozens of cellar workers in winemaking areas throughout the globe have disappeared without leaving a trace, usually after going to work in their dark cellars alone. Others (though a much smaller number) have been found dead with their necks snapped violently.
Barrels in the crime scene areas have excessive amounts of wine missing from them, an extreme case of what winemakers call "the angel's share" – a portion of wine thought to evaporate during aging in wine barrels, requiring them to be periodically "topped up" with additional wine to keep the barrels nearly full. In many of the reported cases, sightings of life-sized stone statues of weeping angels among the barrels have been reported, only to later unexpectedly disappear without any physical evidence of break-in or other theft.
These strange events took an even more fantastical turn when the Spanish Ejército de Tierra, called into Rioja to assist local law enforcement in the ongoing investigation, installed motion-detection cameras at various points in the subterranean crime scenes near Rioja Alta…