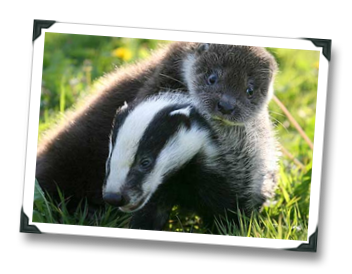 Sorry – couldn't resist.  I mean, just look at those cute, furry-cuddly, viciously-fanged mammals over there!
I mean "other badges" of wine reviews, of course – in my case, I'm the late-comer to the wine badge review par-tay masterminded by Vintank; that is, late-comer in terms of getting my badges ready for prime-time (I was part of the "wine badgers" group from the conceptual phase).
What the hell are wine badges? Essentially, they are intended to be a visual way to help you identify a wine that I think has something "special" going on, beyond the quality 'grade' and mini-review that I might give to a wine when reviewing it.  Here's the overview from Vintank brainiac Paul Mabray:
"As with everything the digital arena is transforming everything we used to know about wine.  I am fortunate to watch a group of talented bloggers bucking tradition and judge wine on new merits by creating a whole new movement for scoring wine.  It seems like a small thing, create a category for a wine that you believe in and assign a badge to it, explain the criteria openly and transparently, and only give those wines that you appreciate fit that category a badge.  Simple, elegant, but more importantly a TRUE representation of the quality you admire in the categories you create.  A wine fits or it doesn't.  A wine earns an accolade or it doesn't."
It might help to think of the badges as a cross between a score and a medal, but with more awesome.  The cool thing is that the badges are already in use by Mark deVere, Ward Kadel and Steve Paulo. The badges aren't yet standardized, which I personally think might come back to bite us in the tushie somehow, but in terms of distribution these puppies are primed for success.  HelloVino, Cruvee.com, and Yourwineyourway.com are already signed-on and using the badges, which thanks to their distro. system are automatically being included in content like winery Facebook pages.  We often talk about on-line technology having the potential to change  things in terms of the wine world – this is an example where the potential is starting to actually be realized.
Some great discussion on the badges available so far has popped up over at Vinotology and at DrinkNectar.com, and I left a comment in the DN thread that sums up my view and vision behind the badges, so I'm reprinting it here:
"If I give a wine an A- or a B+, does that tell you much aside from my view of its quality? Not really. If I categorize a wine as 'Elegant' or 'Sexy' does that tell you much? It does – it tells you which wine to try if you want to impress someone, or in the latter case if you want to get lucky on a hot date. So, by giving a badge to wines that meet some kind of minimum standard, I'm hopefully telling people a bit more about that wine without them having to read the entire post or review or whatever (unless they are curious and want to do that). I see no conflict between the badges and scores of any kind. I see them primarily as complimentary."
The main criterion for a wine receiving a 1WD badge is that I give it a "grade" in the B or A range; after that, if I think that they meet the criteria for a particular badge then tat wine will be "awarded" one.
So at this point you're probably thinking "enough already, what the f—k do these badges look like?!??"
Well, my friend, read on for the badges and their explanations…