Master of Wine and Certified Wine Educator Tim Hanni has been lighting up the on-line wine world this week.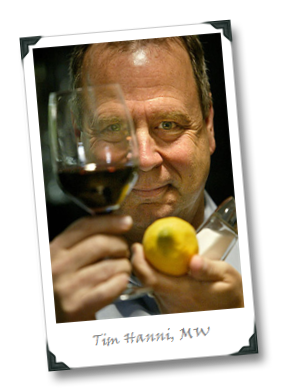 More specifically, what's been lighting up the wine world is the release of a report of highlights from a study of wine consumer taste preferences that Tim has co-authored with Virginia Utermohlen, MD.
Titled "Beverage preferences attitudes and behavior of sweet vs. tolerant wine consumers," the sixteen page report is getting a hell of a lot more than sixteen pages worth of discussion, as it draws conclusions from a series of studies that focus on the market of wine consumers and how they taste – conclusions that challenge the conventional notions of how (or even if) wine can be judged objectively and empirically, and just how wrong the wine industry might be getting it in how wine appreciation is taught.
In summary, Tim's report might just be the hot topic of the wine world right now, with several wine personalities from Jeff Lefevere to Steve Heimoff to Jancis Robinson chiming in with their (mostly fascinating) interpretations of Tim's results.
As you might expect from someone who has been in the wine and food biz for over thirty years, and who was one of the first Americans to become an MW, Tim is not shy about is views. In fact, he's been an active participant in the fray and debate about the results of his study since its announcement (for a great example, see GoodGrape.com's take on the report, which is one of the best overviews on the topic published to date, and contains fascinating tête-à-tête reading in the comments from Tim and others).
Clearly, based on the reaction to the report so far, Tim's views – and the manner in which he presents them – can be polarizing. As Tim put it in one of our email exchanges, "It is intriguing to me how the idea that people are different and that the topic of sweet wine and defense of sweet wine consumers can generate so much hostility."
Are the debates missing the point?  Maybe.  According to Tim, it's not whether or not sweet wines are better or whether or not those that prefer them are superior tasters, but that there are significant differences in how we taste wine and food that is important: "This is a quote from Jancis Robinson MW from 4 years ago," he told me, "when I had my scientific mentors, Dr. Chuck Wysocki from Monnell Senses center, Michael O'Mahony form UC Davis, present data and conduct demonstrations at the MW symposium in Napa:
'The main point of the session was to suggest that there are all sorts of populations of people who will perceive wine differently, thanks to our own sensitivities and preferences, and that the wine business is crazy to act as though one message, or even one sort of wine, suits all.'"
I had the opportunity to ask Tim about the study, his work with Virginia Utermohlen, and his views on how to bring the power back to the wine consumer people.  Whether you love or loathe Tim's take on wine tasting preferences, few would challenge Tim's passionate zeal for championing the empowerment of wine consumers, and I suspect few would find the following interview responses from Tim anything less than fodder for compelling wine conversation.
Enjoy!…