Because I'm perpetually behind in all aspects of my life, I now find myself spending time that I don't have perusing productivity websites looking for ways to get time "back."  So far, I'm (at best) breaking even in terms of getting back the time I spend perusing productivity websites.
One of the cardinal sins of productivity these days is multitasking, which is almost universally derided as the enemy of true efficacy. So, it should come as no surprise to anyone that knows me well when I tell you that I resorted to multitasking in order to get through a backlog of wine and wine product samples to review.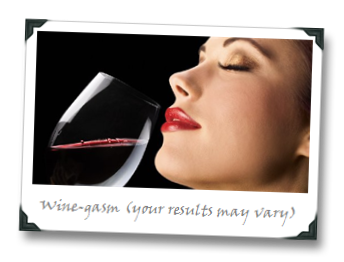 What you might call shiftless otioseness, I call adding value. 
Ok, whatever…
So, I used a product sample to open a wine sample, and poured that wine sample through another product sample (into a glass that I purchased myself, so that part won't get reviewed – I do have some limit on the number of freebies to be strung together (apparently, that limit is three). 
The result – a review of the True Utility Twistick, the massive 2006 Luce Della Vite red, and the Vinturi Wine Aerator (yeah, I know – I'm the last wine guy alive to try the Vinturi). I had fun, but didn't get to the semi-orgasmic status suggested by the image on the back of one of the products (see inset pic).
Man, I'm already tired and I haven't even gotten into any details yet. Can you just come back tomorrow?  No?  Fine, let's get started…