The conclusion of the recent 2012 Drink Local Wine Conference in Denver was a "taste-off" competition of sorts in which twenty-plus Colorado wine producers each poured two of their offerings, with the media and attendees voting on which of those offerings were the "best" on hand (technically, one producer wasn't pouring wine, in terms of grape wine, but showcased their Mead – Redstone Meadery, who took the "people's choice" award for their intriguing Nectar Of The Hops).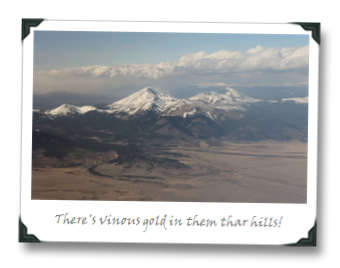 As a competition, it was fun but given the levity and structure of the proceedings, it shouldn't be taken as a be-all, end-all statement on CO wine hierarchy (we are talking about a competition with a quarter of the state's producers, only pouring two wines each); but gems are gems no matter how or where you happen to uncover them.
I will get to my thoughts on the gems – the winners on the wine side of that taste-off – in just a minute (or three), but first I want to tell you about the clearest winner of the Taste-Off:
Colorado wine.
While I maintain my stance (firmly, I should add) that the region is a "nascent" producer in that Colorado has not fully cracked the code of what grapes to plant where to consistently produce world-class wines, and while the quality levels between (and even among the offerings within each of the) producers is still way too broad (there's plenty of mediocre wine to be had), I can also tell you emphatically that there seems to be no ceiling for Colorado wine's quality potential.
Colorado is already making world-class wines – it just happens to be in tiny quantities and can't be made consistently enough (quite a bit of that being due to extreme vintage variation brought on by the intensity of its continental, high-elevation climate). And while you're certainly likely to find some real clunkers in CO (its bad wines are epic in their terribleness), the best ones really are gems worth wading through the muck to unearth; in some cases – particularly in the case of one of the DLW Taste-Off winners – CO wine has already arrived…