He's baaaaaaaaaaaack.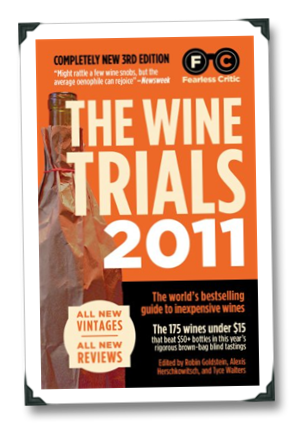 Robin Goldstein, who shook the wine world's foundations in 2008 when he won Wine Spectator's restaurant Award of Excellence after creating a fictitious restaurant whose wine list included some of their lowest-scoring Italian wines in the past two decades (triggering one of the most heated public debates of the year in the wine world), is back.
With a vengeance.
Not that Robin's disappeared since my last interview with him (which long-time 1WD readers will recall generated some very compelling debate – some of which, you will come to learn, influenced his latest project): he blogs regularly at BlindTaste.com, helped follow up the 2010 edition of The Wine Trials with The Beer Trials (a similar take on blind tasting ratings, applied to commercial beers), and has co-authored the new release The Wine Trials 2011.
Once again, I greedily devoured the results in my review copy of The Wine Trials, and just as in the 2010 versions, I found the them nothing short of compelling.
For starters, the consumers' choices (for the most part) are very good bargain wines: take Dona Paula, Aveleda, Hugel, Nobilo, and Sebeka for examples.
Additionally, the blind tasting regimen for the trials (which once again pitted inexpensive wines against similar but much pricier brands) was enhanced with a bit more of the science behind them explained, and the results were similar to those in 2010: non-experts prefer less expensive wines, by a significant statistical margin.
Finally, Robin and his co-authors seem to take an even harder line in The 2011 Wine Trials against the use of point scores by leading wine publications, including taking Wine Spectator to task for how they handled the Award of Excellence kerfuffle in 2008. Whether or not you agree with their stance and their findings, the Wine Trials team at Fearless Critic Media are clearly not interested in backing down anytime soon.
Robin (once again) kindly agreed to talk to me about his controversial new release, and (once again) he has a lot to say about Wine Spectator, the 100 point wine scoring system, and how wine consumers can enhance their own perceptions (and use their own preferences to rally against snobbery in the wine world). Oh, yeah, and he talks RUSH!
Enjoy!…