This week, we're giving away a hardcover copy of Todd Kliman's excellent The Wild Vine: A Forgotten Grape and the Untold Story of American Wine (of which I received more than one sample copy) to one lucky commenter (that could be YOU).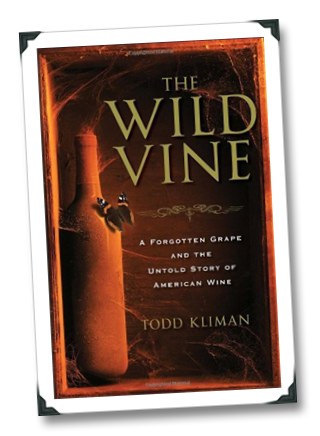 I should start by saying that The Wild Vine is everything that you'd want out of a good wine book; better stated, it's everything that you'd want out of a good book, period.
There are compelling characters.  There is a stellar narrative voice.  There's an underdog story (a few, actually, interwoven) that make you care.  There is conflict, perseverance, and in some ways, triumph.
I'm just not entirely convinced that the story needed to be told – at least, part of it, anyway.  I'm glad it was told – and in such gloriously talented fashion; I'm just not sure I "get" the importance of the tale, mostly because the heart of the story in The Wild Vine is the near total disappearance of one of America's most seemingly promising, and at one time certainly most successful – native hybrids, the Norton.
The book takes us on tangents as wildly diverting as the un-pruned tendrils of a Norton vine: from the early 1800s near-suicidal despair of Dr. Daniel Norton (who by all reasonable accounts appears to be the originator of the Norton grape that bears his name) to the crowning of an American Norton as one of the world's greatest wines in a late 1800s Austrian wine exhibition, to the near singly-handed modern resurgence of the Norton grape in its spiritual and genetic home in Virginia at the dedicated hands of Chrysalis Vineyards transsexual owner, Jenni McCloud.
As you have probably discerned, The Wild Vine is not without (major) drama.  And while some might bristle at Kliman's extensive use of fictional historical narrative to get inside the heads of the book's decidedly non-fictional characters, and others might give up on the extended storyline (Kliman literally waits until halfway through the book before posing the question of why the Norton practically went extinct), those who stick with The Wild Vine all the way through will be well-rewarded.
There's just a part of me – the part that's tasted some nasty versions of wine made from Norton grapes – that wonders if the grape should have been saved.
(for details on how to win a copy of the book, read on…)