Do you drink wine without eating food?  At the same time, I mean.  Of course you eat food. And of course you don't actually drink wine at exactly the same time that you eat food, as that is physiologically impossible… ah, forget it, you know what I mean!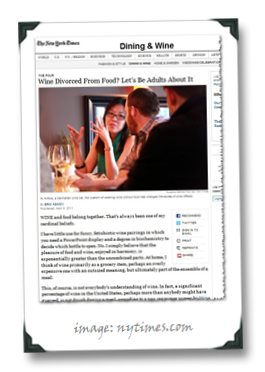 Anyway… Chances are, increasingly, that your answer to that question is "well…duh!" At least, that's the story from a recent Wine Opinions market-research survey, which was the subject of a New York Times piece by my compadre Eric Asimov.
I was quoted in Eric's write-up, mostly on the topic of whether or not this trend away from wine and food meal pairing consumption should surprise anyone, especially with the advent of the Millennial wine-buyers coming of age into the market for fine wine (to save you some reading time, my answer was basically "No, we shouldn't be surprised").
For some reason I seem to have been anointed as someone with a direct line into the Millennial wine-buying hive-brain, which seems strange to me because, while I'm very, very humbled and grateful that so many in the Millennial set seem to enjoy this blog, the first thing that anyone who knows Millennials will tell you is that you should ask them (the Millennials, that is) about their buying habits directly, because they are probably more willing to speak about them than any previous generation.  So if you're in the wine marketing biz and you're not talking directly with Millennial wine buyers, then you are not Charlie-Sheen-winning, my friends…