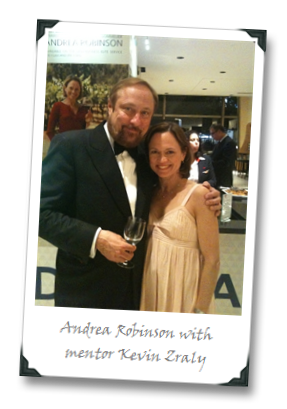 Many, many wine personalities talk about wanting to make wine more accessible and simple for consumers; few deliver in the manner that today's interview guest, Andrea Robinson, has. She's practically raised the task of simplifying wine to an art form.
After ditching a 9-to-5 day job ("surely there is a special place in Heaven for the person who lured me off Wall Street (Remi Krug, in fact)" she noted), Andrea became a Master Sommelier and (to put it mildly), never looked back.
Andrea's list of accomplishments since her days on Wall Street is long and storied enough to turn the most stalwart over-achiever greener than a bottle of Vinho Verde:
She was the first woman ever chosen Best Sommelier in the U.S. by the Sommelier Society of America; she was the first appointed Dean of Wine Studies for COPIA; she was appointed Master Sommelier for Delta Air Lines (overseeing all of the in-flight wine choices for its Business Elite cabin); she received the Wine Literary Award for 'Exceptional Contribution to the Literature of Wine' and in one year (2004) was inducted into the James Beard Foundation's "Who's Who of Food & Beverage in America," selected as 'Wine & Spirits Professional of The Year' by Bon Appetit Magazine, and received the 'M.F.K. Fisher Award' by Les Dames d'Escoffier International; No, we're not done yet – in 2002, the James Beard Foundation named Andrea 'Outstanding Wine & Spirits Professional'.
We're still not done: I didn't mention the two TV shows she has hosted, or the fact that she's written eight books (with her first, Great Wine Made Simple, garnering a James Beard Award nomination).  Normally, you'd be justified in already being sick of her, but in Andrea's case her engaging personality can soften even the most jaded temperament – an aspect of her successful approach that comes shining through in the interview that follows.
Presumably, Andrea isn't busy enough, and so has decided to launch a new website, a new line of stemware, a wine DVD / video series, and is making a push behind her on-line brand by running a contest to incent wine lovers to connect with her on twitter and Facebook. She (somehow) found time to answer my questions, in which she provides her thoughts on wine education, Sesame Street sing-alongs, and reveals some of her favorite wines.
Andrea told me "I like dry wine (and sweet, and everything in between), but not dry interviews!" – but as you'll see below, suffering a dry interview isn't a likely possibility when she's involved. In fact, Andrea is not shy in voicing her views on wine education, winemaking styles, and wine critics – all of which you'll get a glimpse of in our interview.
Enjoy…