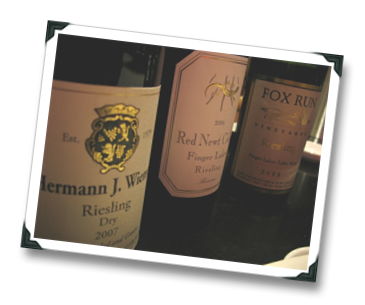 Earlier this week, I had the pleasure of dining with fellow wine-geek and wine-blogger David McDuff and his wife at the center of my Asian-fusion culinary universe, Teikoku.
Aside from generally enjoying each other's collective company, our get-together had another purpose, which was to (finally, yes, finally) sample some of the wines sent to us via fellow wine-geek and wine-blogger (and fellow currently-suffering-Steelers-fan) Lenn Thompson as part of the Taste NY program.  On deck were six NY Finger Lakes Rieslings, all from different producers, to be evaluated in the only real way that Rieslings can be truly evaluated – in the company of excellent food.  The wines:
David consistently offers up amazing tasting notes and wine evaluations on his blog, and this event was no exception – earlier this week he posted his thoughts on the six sample bottles that we tasted.  His notes are lucid and entertaining, and he nailed our collective perceptions of the wines that night (the only change I'd make to his observations would be in my personal order of preference, which would have put the Dr. Frank dead last because I've had previous vintages of this wine that were excellent, and thus my disappointment level on tasting the `07 was quite high).
What David didn't mention in his write-up was that he'd kindly brought along a different Riesling for comparison.  Not from the Finger Lakes, at $18 that mystery wine was priced at the lower end of he spectrum of the NY wines on our evaluation list that evening, and it had me rethinking the entire QPR proposition of FLX Rieslings…