I was recently contacted by the folks over at Etching Expressions, a service that provides custom etched wine bottles and personalized wine labels, complete with vino in bottle.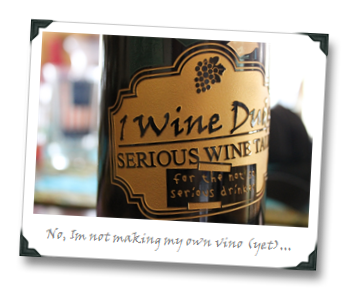 They wanted to send me a sample, but not for the usual reason of hoping that it might turn into a formal review. No, this was to potentially counter a review of their products that I penned back in June… of 2009.
In that post, I gave high marks the top-notch bottle etching that EE pulled off (a custom job, by the way, using one of the 1WD t-shirt logos). I gave not-so-high marks to the generic plonk of a wine that they used to fill that sample bottle.
And there, my friends, was the rub.
It seems that on the Global Interwebs (and no, I will NOT stop using that dorky phrase anytime soon), reviews can get to be sticky matters. Which is one of the reasons, I think, that wine and product producers of all stripes clamor to get folks on the web with half-decent following to cover their products: these things live virtually (in both senses of the word) forever. Of course, the double-edge of the sword that cuts you is the negative review that happens to get published, which is probably why most people steer clear of the negative stuff (I myself have just found too much good shiz to tell you about lately, making the potential negative coverage a lot more difficult to justify in terms of taking up virtual real estate here on 1WD). In this case, EE couldn't seem to get a Google search result without my less-than-stellar 2009 review popping up front-and-center; not great for brand perception on-line, I suppose.
And so I gave EE the okay to send me another product sample for possible review, and told them I'd amend the previous review to account for the fact that their vino selection had been substantially upgraded in the years between my visits. And I can tell you that I was more than pleasantly surprised by what I found both outside and inside that new sample…