"It only took me… eleven years!" remarked Ron Yates, owner of the family-run Spicewood Vineyards, which produces about three thousand cases from about forty acres in the about-as-unlikely-as-they-come-at-first-but-upon-further-review-kind-of-inevitable fine wine region of Texas Hill Country.
Yates was speaking about the fact that he and Texas-native winemaker Todd Crowell can now offer an all-estate tasting list. Getting there, apparently, wasn't all that easy; or, at least, not straightforward. Yates was studying law and working in the record label business (High Wire Music, once home of Toad the Wet Sprocket front-man Glen Phillips, a personal 1WD fave), when he caught the fine wine bug. In unlikely-but-inevitable fashion, his cousins Ed and Susan Auler own Fall Creek Vineyards; but that's not really what got him into wine. That would be… Spanish Tempranillo. Of course, right?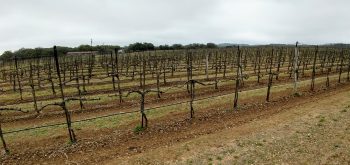 "That's my favorite grape in the whole world," Yates told me when I visited his tasting room in Spicewood, TX (as part of a media jaunt). While a student in his twenties at the University of Texas, Yates spent a semester in Spain, living with a host family whose son just happened to be grape grower in Ribera del Duero (see what I mean about kind-of-inevitable?). A love affair with that region's signature red grape thus ensued. "A good bottle of Tempranillo was as cheap as a bottle of water back then" Yates recalled.
Years later, in 2007, thoroughly enthralled with things vinous, Yates began courting then Spiwood's then owners Edward and Madeleine Manigold, eventually buying from them. The vineyards, sandy loam with a well-draining limestone bed, had potential; the vines, though, needed some work. They reduced the `92 plantings, removing "stuff that just shouldn't be here [in Texas] with the heat." Yates' grandfather helped him with the lease and purchase; "he was so excited that his long-haired, hippy grandchild was leaving the music biz and getting into agriculture!" Turns out, it was a pretty good move after all…
Read the rest of this stuff »