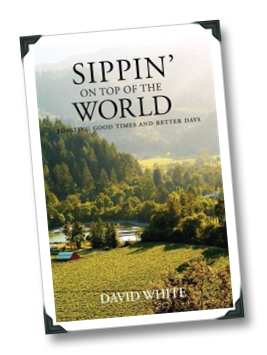 I seem to be in 'book mode' the last week or two.  I'm a bit of a bookworm, so it's fun for me to mess  around at the intersection of wine and the printed word.  I still don't own an eReader device, by the way – I prefer Book 1.0 – you know, the kind with actual pages that you can stick a bookmark between.
Anyway, here's another piece of printed word that intersects with the wacky world  of wine.
David White's Sippin' on Top of the World: Toasting Good Times and Better Days, of which I recently received a sample copy, is a bit of a strange book. 
In fact, I'd go so far as to say that it's being misrepresented. 
Sippin' on Top of the World isn't so much a list of wine toasts (as the subtitle would lead you to believe) as it is a series of spiritual wine meditations.  Which makes sense when you consider that its author, David White, is the co-founder of the "WineSpirit Institute for the Study of Wine and Spirituality."
Uh-ohhhhh.
At this point, your mind may be screaming "CULT! CULT!" and planning to run away as quickly as you can lest you be tainted by the odiferous funk of the religious cook.  It would be an understandable reaction, though one that I'd argue was totally incorrect.
In fact, depending on your point of view, dismiss Sippin' on Top of the World too readily and you'd be missing out on some potentially enthralling conversation topics, not to mention possible sources of inspiration…