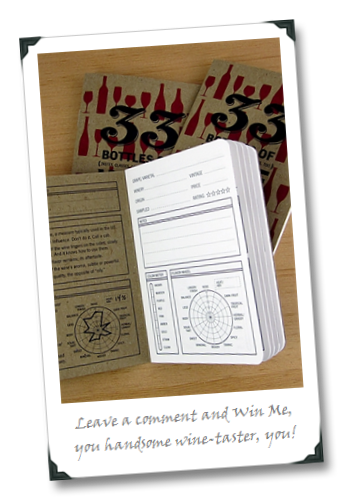 Well… do ya?
We've got another nifty giveaway this week (this time courtesy of Scout Books) to help stimulate some stimulating conversation about taking detailed wine tasting notes.
The thing is, I don't do it.
I know.  I suck.
Seriously, though, I don't take copious notes when it comes to tasting wine.  At massive tastings such as Premiere Napa Valley I certainly do take notes, because otherwise it would be hopeless – but those notes certainly aren't detailed, and usually are just enough text to jar my memory, where the real tasting notes are kept.
In similar fashion, I don't keep a very good written record of what's in my cellar (personal or wine samples), tough I'd argue that the record in my brain is pretty damn good.
Fallible?  Certainly, but it doesn't seem to be slowing things down on 1WineDude.com so I've no plans to change it.  But that doesn't mean that I advocate anyone else mimicking my behavior; in fact, I preach just the opposite, I've spent a lot of time studying systematic approaches to wine tasting, and I think it's essential for those learning about wine to record detailed thoughts on their experiences. I just don't do it myself, in the same way that my band can play successful gigs without practicing – there comes a time when you get comfortable enough that you don't need to do those things as often (though of course you still benefit from doing them!).
Which is where tools like Scout's 33 Bottles of Wine come in – and we're giving away a three pack ($12 value) of their way-cool tasting journal…