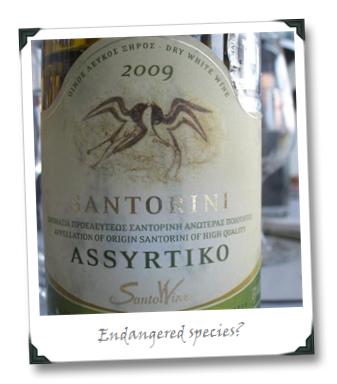 "All this was green – from here until the sea."
George Koutsoyannopoulos has a round, friendly face that belies the seriousness of what he is telling me, one arm on the steering wheel of his "Volcan Wines mobile," the other gesturing over me towards the passenger side window as we ride up the twisting, winding passage towards one of Santorin's higher points.  We're on our way to lunch at the local taverna; a Greek lunch, mind you – the kind that is of Homeric epic proportions even by European standards.  It's the kind of lunch that will last hours and showcase the best local cuisine that the island has to offer, the kind of lunch where you might just forget how to walk by the time it finally concludes. 
Typical day at the office, right?
From the vantage point of the front passenger-side window, I don't see vineyards in the valley below as it stretches out to the rocky beach and then the Aegean; I see an airport.
"Building in Santorini has reduced due to the recent economy," George says, "from the `80s to 2000 was the biggest expansion.  But the airport had the biggest impact on the vineyards."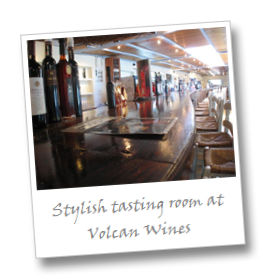 George is a brave man.  I know this not because he is driving recklessly – he isn't (in fact, his driving, like the pace of just about everything else on this gorgeous volcanic oasis, can best be described as "laid back").  I know it because he is one of the driving forces behind the island's Wine Museum, which chronicles the history of Santorini's viticulture from 1660 through the 1970s.  For one thing, the museum, while an informative treasure trove of the unique and ancient story of viticulture on Santorini, is underground and populated with some of the eeriest animatronic humanoid automatons I've ever seen – there is no way I could walk through it at night without totally losing it in an apoplectic, fetal-positioned mess of abject fear. 
More importantly, George's investment in the museum is a brave gamble, part of a battle being fought to protect the island's vineyards – and the history of Santorini's wine culture, itself a miracle of human ingenuity vs. the forces of nature – from extinction.
The greatest threat to the way of the wine on this most-beautiful of all of Greece's Aegeanic treasures?
Tourism. 
The island is simply too gorgeous not to be visited, and the result of its open embrace to the throngs of tourists who visit each year is a bit of a cold shoulder when it comes to preserving its time-weathered culture of unique, indigenous wine…