Ok, It's (probably) not what you're thinking.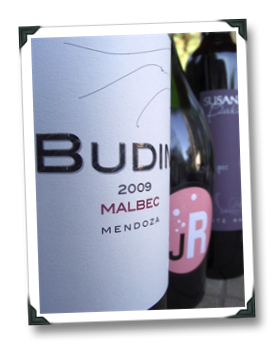 What I wanted to do today was highlight the versatility of Argentine Malbec – not just because it's capable of delivering more than the tongue-coating, savory inkiness of a dry red that we're used to, but also because I'm kind of all-Malbeced-out from my South American jaunt, and so if I'm gonna cover Malbec it's gonna need to be a little creative.
Not that creative… look, you really need to get your mind out of the gutter, alright? It's not even the weekend for krissakes!
So… I grabbed three Argentine Malbecs made in three totally different styles from the ever-expanding and totally-over-run-with-cardboard-boxes sample pool known as my basement, and we hit the grill for some BQ goodness to match up with it all.
My tasting experiment wasn't without its slight disappointments, but it did yield a crowd-pleasing "sleeper" of a dessert wine – one that happens to deliver a serious amount of bang-for-the-buck, and also even more serious amounts of the "gee-I didn't-know-they-made-this-kind-of-stuff" factor.  More on that in a minute (or two).
As I suspect is the case with many three-ways, ours started with imbibing some bubbly…