Given its name, you'd expect the "invisibles collection" – a new line of glassware from crystal makers Ravenscroft, to be light, and probably thin.
You'd be right of course, based on the stemware sample that they sent to me recently.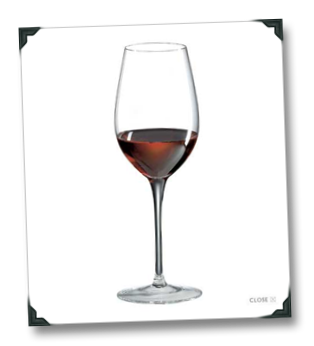 What you might not expect, though, is the effect that the "Invisibles" glass has on the wine within it – at least, I wasn't expecting the surprising effect that I experienced.
More on that in a minute (or two).  First, I want to cover the aesthetics of the glass itself – both good and bad.
The particular sample I received was one of Ravenscroft's Invisibles Chianti/Riesling glasses, which they recommend for use when drinking "Beaujolais, Carignan, Chianti, Cotes du Roussillon, Dolcetto, Montepulciano, Primitivo, Red Zinfandel, Sangiovese and Teroldego." Oddly, Riesling isn't mentioned in the list, but since it's in the name of the model line, it's the wine I used to test it out.
The first thing you notice is that the glass is very light and is quite thin, and it feels very well-balanced when you're holding it by the stem and it has a standard 1/3-full pour in it.  Despite the light weight, it doesn't feel at all flimsy.  Over-pouring does, however, make the glass feel unbalanced in your hand, which I suppose is a reasonable trade-off given the light weight (you shouldn't be over-pouring anyway, you lush!).
The Invisibles line are hand-made and lead-free, and my sample glass had subtle but noticeable flaws of air bubbles in the base and at the very bottom of the stem, and the base didn't sit perfectly flat on a smooth level table surface.  I'm not a glass snob (and I really dug the overall tulip-shaped design), but if you're coughing up over $40 for a set of stemware you'd probably be within rights to send back the glass for a replacement if it had the same issues as my sample, even if it's blown by hand.
Ok, so after all of these aesthetic cavils, what about what the glass does to the wine?…