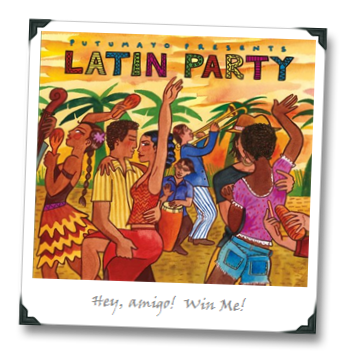 Alright folks – time for another giveaway, this week featuring a brand new release from leading World Music label Putumayo.  The new CD, titled Latin Party, is a funky, dance-infused, eclectic mix of tunes from Latin American artists, and features bands hailing from Cuba, the U.S., Peru, Columbia, Mexico, and Jamaica.
From the album press release:
"It includes a mix of boogaloo, funk, cumbia, son, salsa, ska and dancehall and spotlights cutting-edge bands and rising stars that pay homage to Latin music's past while creatively moving it into the 21st century… features songs from New York-based hip-hop collective Brooklyn Funk essentials, Texas-raised Mexican-American musician and producer A.B. Quintanilla III (Selena's brother), Peruvian salsera Cecilia Noël, multicultural French/Cuban collective Mas Bajo, Afro-Cuban group Luis Mangual y su Conjunto Mangual featuring José Mangual Jr. and from Colombia, three respected groups: salsa super group Fruko Y Orquesta, popular salsa band Orquesta Lo Nuestro and ska/reggae band Coffee Makers. The CD liner notes also feature a drink recipe by Food Network chef Daisy Martinez and an appetizer recipe by leading Mexican chef Patricia Quintana, owner of renowned Mexican restaurant Izote."
And YOU can win a copy of Latin Party just by commenting on this here post!
Here's the dilly-yo:
Leave a comment and tell us what wine would you pair with this album of funky Latin dance grooves?  At the end of next week, a winner will be randomly selected from the commenters using a super-secret, totally objective process that involves my dog (details are best left unexplained).  That winner could, of course, be YOU!
I'll kick things off with my choice of wine pairing…