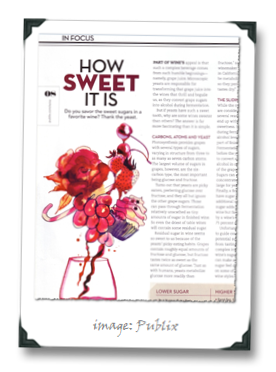 One of my favorite "pro" gigs is penning the In Focus section of Publix Grape Magazine, which I will happily continue doing for so long as they're willing to ask, because I have so much freakin' fun doing it. I learn more than I'd otherwise suspect every time I write for the seasonal magazine, both in researching and in trying to take complex wine topics such as yeasts, oak, and acids, and make them palatable (see what I did there?) to non-geeks. You know, normal people!
For the 2013 Winter edition of Grape, I solicited the help of my winemaking bud Steve Matthiasson in breaking down the topic of wine sugars, much like yeasts break those suckahs down in real life (see what I did there?… whatever…). Corkscrews are the topic for the Spring, so go subscribe (for free) if you don't want to miss it.
But I'm not blogging to talk about that, I actually want to talk about another aspect of the Winter release of Grape, in which I'm quoted on the topic of cute wine labels. Namely, are they good or bad for wine, and would they appeal to Millennials?
I'm one of a few wine geeks quoted in that article, which understandably but unfortunately didn't quote my lengthy caveat that if wine brands like Skinny Girl and Cupcake are selling, then there must be good reasons for that and it doesn't really matter what I or any other critic-type-person thinks about them. Interestingly, the article also mentioned Gnarly Head and Smoking Loon, which I don't consider as "kitschy" as Skinny Girl or Cupcake (loons are not cute, and neither are gnarly old vines), but I've long considered them decent bargains because they're getting nice old vine fruit from places like Lodi at suppressed prices, which translates into really decent wines in some cases…