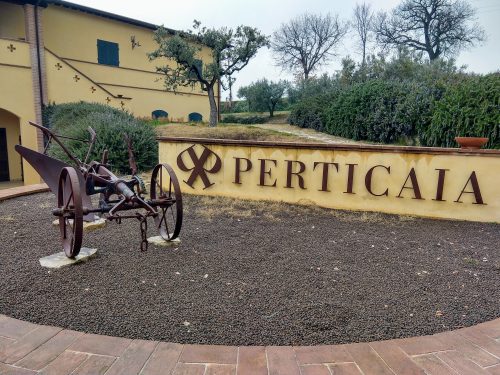 The name Perticaia is familiar to lovers of big Italian reds, but its meaning – "plow" in the local dialect – likely isn't as well-known. It is, however, an apt description of how Azienda Agraria Perticaia has forced its way through to the top of the critical food chain when it comes to Montefalco Sagrantino wines.
For that, Perticaia can thank both timing and focus. The brand was founded by Guido Guardigli towards the end 1990s, when Montefalco began a quality boon and a production boom, during which the number of wineries in the region nearly quadrupled. They now farm some sixteen hectares of vines, with not an International grape variety to be found among them, and more or less focus on yields that take produce about one 750ml bottle of wine per plant. Of their 125,000 bottle annual production, a whopping seventy percent gets exported, which means that their oenologist Alessandro Meniconi (working with consultant Emiliano Falsin) is a self-proclaimed jack-of-all-trades, handling (among other things) some export management duties, as well.

Among Montefalco Sagrantino producers, Perticaia is one of the more fastidious when it comes to production techniques, and understanding those is key to getting a full grasp of why their Sagrantino releases are so appealing at such young ages. Only about fifteen percent new French oak is used, with the remainder in some cases being as old as six years, which is kind of like the dotage period in French oak barrel terms (they're making a push to move towards higher use of older, larger barriques, too).
The big key, however, might be in their seemingly non-intuitive, ass-backwards decision to let their Sagrantino undergo longer than normal maceration. One would think that this would make those reds tougher-than-nails when it comes to Sagrantino's already rough tannins, but one would be wrong, because Chemistry. The longer maceration actually polymerizes the tannins, making them more approachable at the expense of color (which, as Meniconi emphasized to me during a media visit, "Sagrantino has plenty of, anyway)…