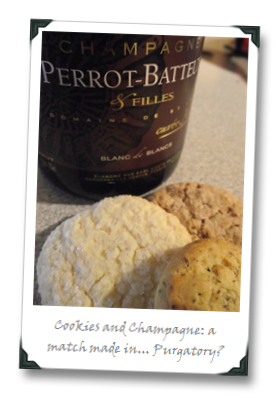 I need to preface this tale of a (somewhat-failed) experiment by telling you (aside from the normal disclosure that I received all of the products as samples for possible review) that I have nothing against massive on-line tasting events like the recent #ChampagneDay (or its also recent big-brother #CabernetDay).
I've got a long history (since Day One, actually) with TasteLive.com, who kind of started the whole kumbaya-peace-love-and-Marsha-Brady-let's-all-taste-together-on-line thang in the first place, after all.  And I love the communal aspect, and the conviviality, that are at the heart of those tasting events.
It's just that it doesn't feel as though Champagne or Cabernet Sauvignon need their own tasting days. I mean, from a brand-recognition standpoint, these wines are like Pepsi or the Chicago Bulls.  It's not like no one's ever heard of them, or never drinks the stuff, or that they have pricing issues on the high end.
So I'm kind of waiting for the underdog wine tasting day on twitter, myself (#BonardaDay, anyone?) before I get too excited about these grape-themed events.

But the twitter peeps were a persistent bunch, asking me (many times) about participating in #ChampagneDay last week, so eventually I caved into the pressure… of wanting Champagne to pair with take-out sushi for dinner that night (which is a f*cking EPIC food-and-wine pairing, by the way). Because I am a slave to the evil twin drives of surprise and novelty, and because I know my place in the Roberts household (lower on the totem pole than my daughter, but slightly higher than my dog… I think), I decided to to pop open the bubbly and pair it with… samples of cookies specifically designed (or, at least, specifically marketed!) to pair with Sparkling wine.
The results? Not-so-Epic…