Wait a second…
…you mean to tell me that Canadian wine personality Natalie MacLean's probable plagiarism (or at the very least, insufficient, obfuscated attribution of others' work), possible pay-to-play wine reviews / favorable brand mentions, on-line comment "sock-puppeting" (and iTunes app review sock-puppeting, while we're at it) allegations, along with spam-botting (can I use that as a verb?), multiple accusations of comment censorship and what seems like outright lying isn't defensible with a simple "oh, whoops, my bad! :-)" letter to her readers?!??
Really??
[ Editor's note: Despite the author's better judgement telling him that he ought to just forget all about this, he's still pissed-off about it, and so has decided to help the cause in a small way by drawing a little bit of extra attention to this scandal and not letting it die on the vine. Look, he's not saying that the average wine-loving person should care what he thinks about these things, but it's his blog so he'll whine, wine, and whittle away the time with this opinion on a scandal here if he wants. Thanks to those of you who will indulge him the time to dip into the wine media's scarred underbelly. ]
Ah, and I forgot about the whole let's-call-the-entire-wine-media-thing-into-question-because-we-all-look-like-a-bunch-of-douche-bags-for-bestowing-awards-on-these-people debate that gets stirred up every time that something like this transpires (which is way too often right now, by the way).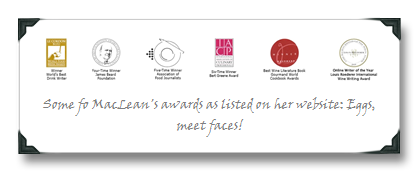 Oh, well – our bad, right?!?
The primary thing that's got me riled up about this scandal is that, as the Hosemaster of Wine recently put it, MacLean "dared use dull and virtually interchangeable wine reviews from wine experts on her blog without attribution" (ouch!)….