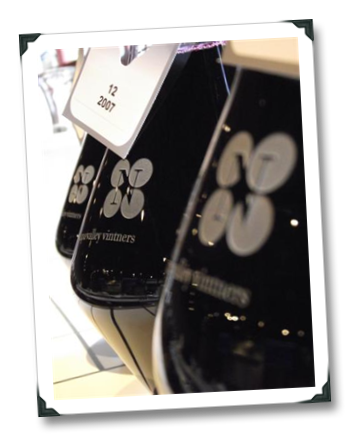 Into the valley of Napa
Rode the six hundred (ok, maybe a few less than that)
Pinot to right of them,
Pinot to left of them,
Pinot in front of them
Volley'd & thunder'd;
Storm'd at with shot and shell…
– with sincere apologies to Alfred, Lord Tennyson

In case the title of today's article lacks clarity for some of you (presumably the wildly hungover among you), I should note that Napa Valley Pinot Noir and I seem to have come to a… disagreement.
Which is a shame, really, because NV PN, though never svelte, has several qualities that make it potentially likable company. Velvety mouthfeel.  Bright red fruit.  Heft that can be attractive when balanced with the right levels of food-friendly acidity.
But make no mistake about it, NV PN has mistreated me.  My tongue might actually have bruises from the most recent fisticuffs between us.
Last week, the 2011 Professional Wine Writers Symposium in Napa Valley wrapped up with a blind perspective tasting of three vintages (2007 through 2009) of both Napa Cabernet Sauvignons and Pinot Noirs at the Rudd Center of the Culinary Institute of America in St. Helena.  Since we had little over an hour to blind-taste our way through numbered beakers of samples of each of the three vintages from multiple wineries, I chose what I thought would be the more interesting route: skip the Cabs (ample samples of those back in the dancing waters of Philly, after all) and instead face off against the samples of Pinots (less of those anyway, 24 wines in all – 3 vintages from eight different wineries).  The wines were a finalist list culled down from 100+ submissions back in December by members of the Vintage Perspective Tasting jury.
Anyway – go for the Pinot, maybe learn something new. Expand the horizons.  Get out of the comfort zone. Can't hurt, right?
Wrong.  Turns out blind-tasting those NV Pinots was, for me, the sensory equivalent of taking a knife to a gun fight.  I have since crawled shamefully back into the safety of my comfort zone, tending my wounds and muttering unintelligibly in pain.  You win, Napa Pinots.  Please don't hurt me again…