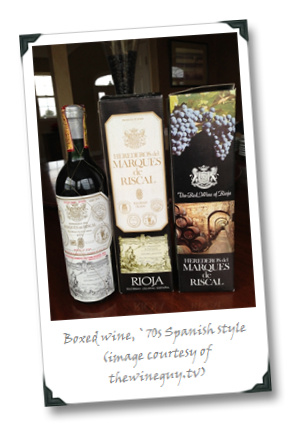 In between bites of grilled chicken pita BLT at Four Dogs Tavern a few weeks ago, I looked up across the table at fellow PA wine educator Bob Trimble. Chew, chew, chew. Swallow. Lift of the glass, sip, gulp. Smile.
"The thing about this wine," I said, "is that it probably tasted yummy when it was bottled… and it still tastes yummy… and it probably tasted yummy at every point along the way; that's thirty-four years of yummy!"
Those of you who hate the descriptor "yummy" when it comes to describing a wine can bite me; this was was f*cking yummy.
Y-U-M-M-Y.
We were drinking what Bob called "Joan's wine" – a thank you gift to him for helping a friend sort through some older items in her wine collection. Our yummy lunchtime still treat was pulled out of its original cardboard box (remember when bottled wines came in those?), and was "kept under the drapes!" and away from sunlight for a long time, according to Bob.
The most interesting thing about the wine, to me, was that our 1979 Marqués de Riscal probably had no right to be drinking as well as it did – this was a Crianza, the lowest man on the Rioja aging totem pole. But at our lunch, it was kicking the shiz out of several younger Reserva and Gran Reserva wines I had from other producers when I visited Rioja last year…