On April 6, I'll be part of a roundtable wine industry panel discussing "strategies for building wine brand loyalty" among what has to be one of the most fickle (and largest) group of wine consumers ever to swipe credit cards in exchange for vinous experiences: the oft-discussed (and more often misunderstood) Millennials.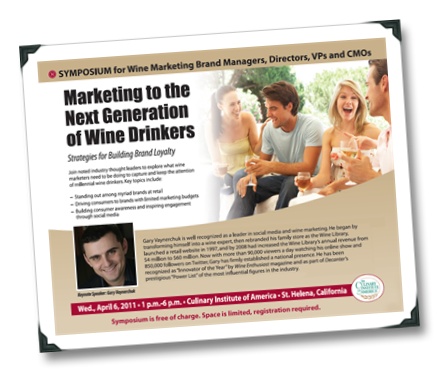 The panel is part of a larger symposium for wine industry types being held at the gorgeous Culinary Institute of America in St. Helena. My panel-mates (now there's a word that has limited contextual usage!) will include moderator Brad Todd of the Richards Group, and Adam Strum (founder of Wine Enthusiast). Gary V is the keynote (for those who've yet to experience a Gary V keynote – it alone is worth the trip).
It's going to be an interesting discussion, because I'm not sure that capturing the loyalty of Millennials can actually be done (at least, not in the way that wine-related business are used to doing it when it comes to Baby Boomers).  Still, there is hope, provided that you can continuously entertain those buyers with transparency, compelling stories that relate experiences connected with a brand, and above all continuing to up the quality of your products.  And void social-irresponsibility that could result in a brand boycott.
You know, really easy stuff, right?  I recommend investing in some Tylenol, because there will definitely be headaches encountered in marketing departments before the dust settles. For more on how the Millennial set views wine, I recommend checking out Millennier.com (because it's authored by an actual Millennial and not a late-30s guy with Millennial leanings – like me – just talking about Millennials).
I'm calling attention to this gig because it's a paying gig (WOOT!), and therefore deserves some mention in the Going Pro vein of articles here…