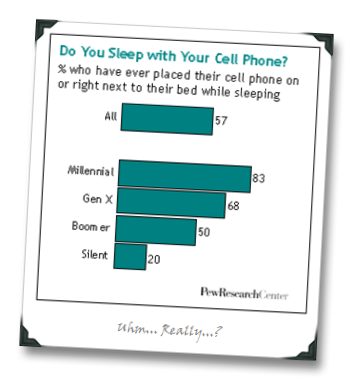 Those of you planning on attending the upcoming 2011 Wine Bloggers Conference in Charlottesville, VA will have your choice of interesting break-out session panels during the afternoon of July 22nd. I'll be moderating one of them, titled Millennials and Wine.
Millennials are Democratic (by a slight majority), thoroughly on-line and plugged daily into social networking tools, and (by a huge majority) sleep with their cellphones (really?) .  They are young enough that they might not get the reference mentioned in the title of today's post.  They are fast becoming the wine consumers of the modern era, drinking a lot of the stuff (even in the shower… not sure I get that one entirely), especially if it has bubbles.
And there are nearly 25 million more of them than there are Gen Xers.
With a potential market that big,  if you're even thinking about wine writing, wine blogging, wine sales, wine marketing, or wine making, you'd better start to understand what makes Millennials tick when it comes to wine.
And you'd better do it quickly…