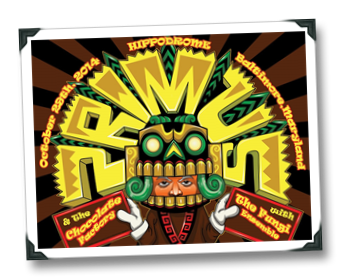 A note to musically-inclined wine people: if you help the nice folks at Claypool Cellars pick their consulting winemaker, eventually you'll get to hang backstage at kick-ass Primus concerts.
And while that might at first sound like a raging conflict of interest, I suppose it's worth noting that a) that hasn't stopped me from telling them how I think the wines could be improved, and b) I didn't charge them any consulting fees (so maybe we're just about even, actually).
Anyway, long-time 1WD faithful will know that we've been following the career of Claypool Cellars (founded by Primus front-man Les Claypool and his wife Chaney, both Sonoma-area residents) with great interest over the years.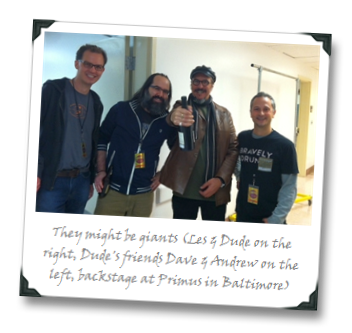 And while it might seem strange that a rocker who is performing trippy, virtuosic renditions of music from the 1971 Willy Wonka movie would be attempting to make world-class California Pinot Noir, I can offer this tidbit from Les: "We want it to be like Primus; I mean, we're goofy, but underneath, it's pretty serious. We can play."
[ Editor's note: for what it's worth, Les has also told me things such as "have you ever had cannabis wine?" and "hey man, where's the fanceé booze?!???" ]
I am happy to report that, since picking up Ross Cobb as their consulting winemaker, Claypool Cellars has come closer to achieving their goofy-meets-serious goal, and have in their 2012 releases produced the best wines I've yet to taste from them. I recently caught up with Chaney, Ross, and Ross's winemaker partner Katy Wilson to eat some viddles in Sonoma, and taste through some of their single-vineyard 2012 Sonoma Coast Pinots (yeah, I know, tough life I've got here)…