It's time for another giveaway here on 1WineDude.com – and for this edition, we are teaming up with Sony Music to deliver you some Classical music goodness for your aesthetic imbibing pleasure!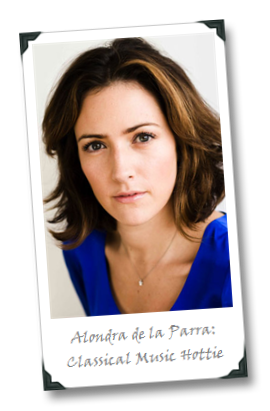 Oh, I should mention that one of the Classical CDs we are giving away features the conducting prowess of A TOTAL HOTTIE.
The featured hottie is Alondra de la Parra, a young Latin-American phenom who has been tearing up the Classical music scene lately.  According to her website:
"Among her recent conducting highlights have been performances with the symphony orchestras of Houston, Phoenix, Columbus, San Antonio and the Orquesta Sinfónica del Estado de Mexico, as well as conducting concerts at the New Hampshire and Colorado Summer Music Festivals. This past summer, she led the Philharmonic Orchestra of the Americas at the Napa Valley Festival del Sole where they collaborated with violinist Sarah Chang and actor Robert Redford, and at Vermont´s Music Festival of the Americas at Stowe."
That's right, Napa peeps – next July you can go to the festival yourselves and try to get her to pay attention to you (good luck with that).
Anyway… our giveaway today features Alondra's latest release, My Mexican Soul. We're also including some amazing piano-prowess kick-ass-ness from Lang Lang – Live In Vienna – in which he takes on works by Beethoven, Albeniz, Prokofiev and Chopin.
You know the drill – you leave a comment, and a lucky winner who will receive a copy of both double-disc CDs will be selected at random in one week's time from the commenters. Leave a comment and tell us your favorite (or least-fave!) Classical music artist, composer, or work to spin when you're unwinding with a glass of vino.
To get us started, here are my picks…